Join us for Episode 38 of the Sports Philanthropy Podcast as Dayna Rosen, Executive Director of Chicago Run sits down with our host Roy Kessel to talk about the impressive programs she is creating for Chicago Run.
Founded in late 2007, Chicago Run provides over 18,000 children and youth with high-quality enriching physical activity programs. Chicago Run's goal is to provide fun and engaging fitness programs regardless of age, gender, neighborhood, or athletic ability. Over the past 10 years, Chicago Run's programs have expanded to serve the whole continuum of childhood from early childhood through teenagers, while staying true to the goals of improving health and wellness, focusing on Sports-Based Youth Development, bridging cultural and racial divides, and encouraging a lifetime of healthy habits.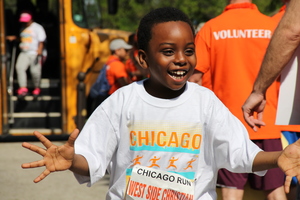 MISSION
The mission of Chicago Run is to promote the health and wellness of Chicago children through innovative, engaging, and sustainable youth running programs.
VISION
The vision of Chicago Run is to enhance the health and well-being of every child in Chicago through running.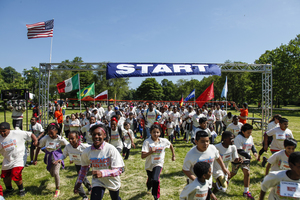 SPRING 2019
Program Numbers
Chicago Run implements free physical activity programs in 60 sites (majority of which are Chicago Public Schools), serving over 18,000 students. 85% of our participants are from low income households. Chicago Run serves students in 36 diverse communities across Chicago representing the following populations:
57% Latino/Hispanic
26% African-American
9% Caucasian
6% Asian
2% Other
22% Diverse Learners
LISTEN TO DANYA'S PODCAST HERE OR WHEREVER YOU FOLLOW YOUR PODCASTS
HIGHLIGHTS FROM DANYA'S PODCAST
00:30 Background
01:00 Education in advocacy and desire to make a social impact
04:15 What drew her to Chicago Run
05:15 Why are sports important in her life
06″00 History of Chicago Run
08:00 Importance of physical literacy
09:30 Juvenile Detention Center programs
12:00 What elements are built into the program
13:00 Working with Chicago Pubic Schools
14:10 Piloting program for adaptive running
15:15 Barriers and Challenges
18:00 Partnerships with NIKE
20:30 Types of Volunteers Needed
22:30 Site Coordinators and their responsibilities
25:00 Expansion of program to high schools
26:30 Importance of gender accessibility
30:00 Why she values listening to young people
33:00 Danya as Commissioner of the WNBA
For more information about Chicago Run, check out their website at www.ChicagoRun.org.